WITH WARREN PARTS SORTERS, YOU HAVE THE RIGHT PART EVERY TIME
We offer a broad range of economical sorting equipment designed to operator independently or function as an integral part of a cellular manufacturing application. With a wide variety of standard and optional features, it's easy to find the right equipment for your specific needs. In addition to our custom vibratory feeder bowls, which are ideally suited for applications where parts need to be sorted by length, we offer portable roller sorters and high-speed roller sorters.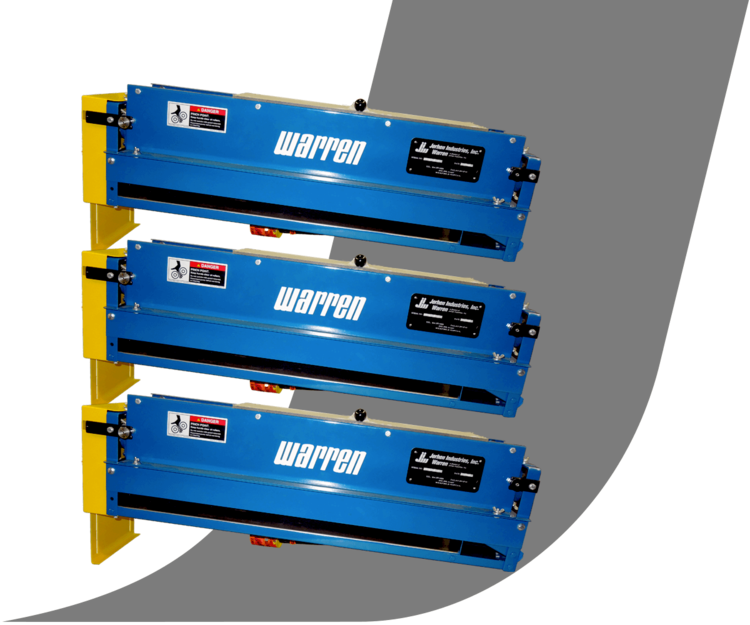 WARREN PORTABLE ROLLER SORTERS
Warren portable roller sorters are designed to provide an economical way to sort good or desired parts from mixed batches by major part diameter. These parts sorters use precision ground, hardened steel rollers for maximum durability. The unique, integral elevation adjustment allows the operator to control part throughput levels to meet the needs of the application.

Designed for quick setup and part changeover, Warren portable roller sorters have conveniently located thumb screws for easy adjustment of the setting for diameter. The part deflector insures proper part orientation at the loading area, which reduces the need for constant operator attention or parts jams. The acceptable parts are discharged from the front chute while the rejected parts are discharged through the side chute.
STANDARD & OPTIONAL FEATURES
Quick setup using simple thumb screw adjustment
Portable design allows the unit to be easily moved from one location to another
Precision ground, hardened steel rollers for longer service life
Simple height adjustment easily changes feed rate
Optional III variable speed DC drive motor – infinitely adjusts "feed-through" rate
Optional floor stand
Optional vibratory bowl feeders and supply hoppers
Roller Length: 24"
Machine Length: 32"
Drive Motor (AC) (Fixed Speed): 1/4 hp
Electric: 115 VAC
Weight: 80 lbs
Part Length: 3"
Max. Part Diameter: 3/4"
Roller Length: 30"
Machine Length: 38"
Drive Motor (AC) (Fixed Speed): 1/4 hp
Electric: 115 VAC
Weight: 100 lbs
Part Length: 3" *
Max. Part Diameter: 3/4"
* Optional parts up to 6" in length
WARREN HIGH-SPEED ROLLER SORTERS
Warren high-speed roller sorters for part sorting are offered in a number of configurations and sorting lanes, from one to four, to meet your specific requirements. These units offer one pass high-speed sorting by largest dia­meter of a selected part from mixed parts and foreign debris. Selected parts are separated from those too large and too small and are each discharged in separate areas.
Setup and part changeover is accomplished by a simple adjustment. On multilane units, rollers are adjusted together for accurate duplicate spacing. All units utilize precision ground, hardened steel rollers for accuracy and maximum durability and variable speed drives to ensure maximum throughput. Multiple discharge chute configurations allow the units to be incorporated into a wide range of manufacturing applications.
STANDARD & OPTIONAL FEATURES
Exclusive Warren adjustment system for quick and easy setup and changeover
Machine tool quality construction for maximum durability and reliability
Wide selection of models and configurations to fit a variety of applications
Variable speed drives for infinite feed rate adjustment
Optional equipment including packaging-by-weight station and conveyor can be added for automated systems.
Optional part loaders, feed hoppers and tub dumpers are available as add-ons
Ready to take your manufacturing automation to the next level? Complete the form and we'll be in touch soon!