WARREN PARTS WASHERS: A COMPLETE CLEANING SYSTEM
Our line of Warren parts washers are available in standard and custom-engineered models to help manufacturers meet a variety of operational and environmental challenges and regulation. Available models include Warren Mini Washers, Warren Dual Washers, Warren Central Station Washers, and Warren Tub Washers.
Warren parts washers are available with a wide range of standard and optional features to assure their compatibility with your wash­ing requirements. These washers can also be adapted for special applications such as spraying wax-rust inhibitors, only washing, or only drying and can be used in tandem for a wash/rinse/dry process.
WARREN MINI WASHER MODELS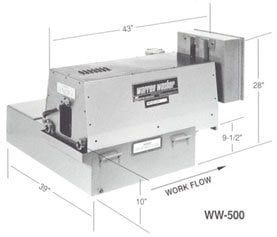 WW-500
Max. Part Length: 3"
Tank Capacity: 25 or 50 Gallons
Oil Separation: Single Disk
Drive Motor: Vari-Speed
Wash Pump: 1/4 HP
Nozzles: 5
Weight: 350 lbs.
Rotation: Vari-Speed 0-16 RPM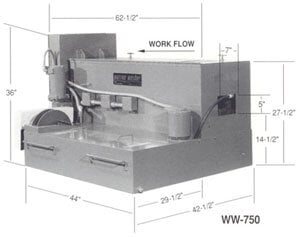 WW-750
Max. Part Length: 5"
Tank Capacity: 60 Gallons
Oil Separation: Dual Disk
Drive Motor: Vari-Speed
Wash Pump: 1/4 HP
Nozzles: 7
Weight: 450 lbs.
Rotation: Vari-Speed 0-16 RPM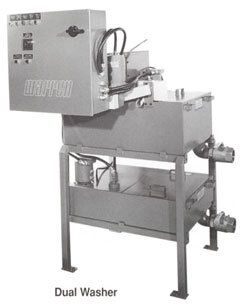 The Warren dual washer will help make the process of washing, rinsing, and drying much easier. This alternative cleaning system accomplishes the rinse cycle through the use of an additional tank attached under the existing washer. The pressure pump within this tank returns water to the washer's drum in order to rinse the parts between the washing and drying phases.
STANDARD FEATURES FOR THE DUAL WASHER
Jam-free, auger-style conveyor system
Oil separation system to clean wash solution
Fifty-gallon wash reservoir
Carbon steel drum with 3/32" perforations
Wash solution heater, which maintains a 125°F wash temperature
Variable speed drive motor
STANDARD FEATURES FOR THE WW-500 AND THE WW-750 MINI WASHERS
Patented jam-free, auger-style conveyor system
Variable speed drum control (0-16 RPM)
Oil separation system for keeping wash solution clean
Thermostatically-controlled wash solution heater
Oven-style dryer controlled by an adjustable thermostat
Easily accessible operator control panel
AVAILABLE OPTIONS
Dual oil skimmer (for the WW-500)
Special/custom augers
Tandem units for the rinse cycle
A support table
2-cubic-foot hopper
Other custom features are available to meet your specific needs
Warren auger-style mini washers help make the process of parts cleaning more time-efficient and cost-effective. Warren mini washers can function either as a "stand-alone" parts washer or in combination with a manufacturing cell, providing washed and dried parts without any additional material handling.
Warren mini washers utilize a patented, jam-free auger-style conveyor to move the parts through the wash chamber, where a pressure-sprayed liquid soap solution removes the residue. Warren's state-of-the-art oil separation system helps to maintain a cleaner wash solution without the use of CFC-based solvents, allowing you to comply with current environmental regulations. The temperature of the wash solution is maintained at approximately 125ºF by a thermostatically-controlled heating unit.
After the parts have been thoroughly washed, the drum-style auger moves them to an oven-style drying chamber before discharge. The drying heater is controlled by an adjustable thermostat that can be easily regulated by the operator. Both the auger and the thermostat are adjustable to assure proper cleaning and drying.
WARREN CENTRAL STATION WASHER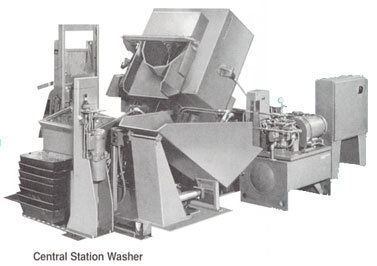 The Warren central station washer is a multifunctional cleaning system that can also be used for the tumbling, polishing, and/or deburring of larger volumes of parts. The central station washer has been designed to minimize floor space requirements and is ideally suited for large-batch, high-volume applications.
STANDARD FEATURES FOR THE CENTRAL STATION PARTS WASHER
Cleaning barrel with a 4 cu capacity, constructed with a dodecagon shape for optimal tumbling and polishing action during the cleaning cycle (can be used for deburring by turning off the cleaning fluid pump
Two high-speed pumps
Two electric heaters capable of reaching and maintaining a 180-200°F wash temperature
Adjustable wash and dry timers, which allow the operator to select the proper cycle time for each operation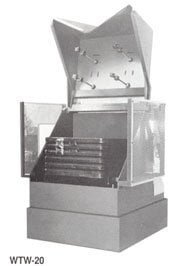 After your parts have been thoroughly cleaned by either a Warren mini washer or a Warren central station washer, you want to make sure that the tub in which the parts were stored is washed as well.
The WTW-20 tub washer has the capacity to dean any standard, palletized side open parts tub. The tub washer uses a heated liquid soap solution to remove residual oil and dirt from the tub sur­face. The WTW-20 tub washer is the quick and efficient way to clean your parts tubs with a normal cycle time of only five minutes.
STANDARD FEATURES FOR THE WARREN TUB WASHER
Skimmers to separate the oil from the soap solution
An automatic gate lift
TA counter-weighted hood for easier opening and closing
let us design a custom parts cleaning system just for you. complete the form and we'll be in touch soon.